Our Journey
Microsoft Imagine Cup 2019
[January 2019]
Dream it. Build it. Live it.

We are going to participate in the Microsoft Imagine Cup 2019
Microsoft Imagine Cup 2019 website
AZURE Challenge at UN WORLD CHALLENGE Finland 2018
[August 2018]

How to solve planetary scaled challenges with planetary scaled cloud?


We are also participating the Microsoft AZURE World Challenge 2018. We use this intelligent cloud to make our app smarter! More details on how we use AZURE can be found in the System Architecture section .

World Challenge Website


UN World Challenge Finland 2018
[August 2018]

We are participating the World Challenge Finland 2018. It is a challenge to the world. The purpose is to bring the world closer together through innovative solutions that we each build and then collectively share with each other. Open source solutions serving your community needs, can then benefit every other city! Almost every city needs the same data management tools as every other city. If cities were to share their solutions with each other, this would multiply their investment by the number of cities participating, massively increasing Earth's collective productivity for livability on planet Earth.


World Challenge Website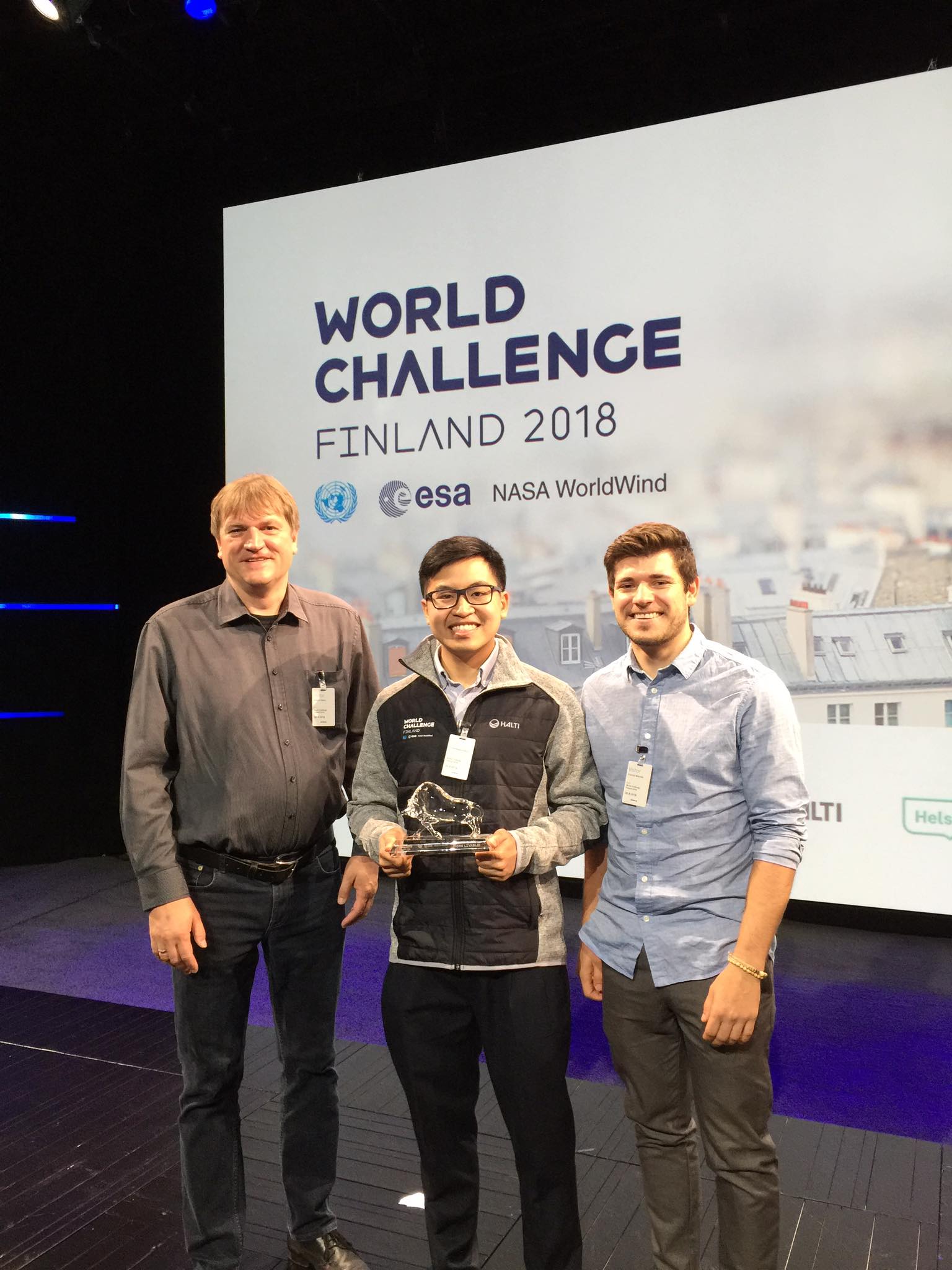 Why "Smart Pollen Monitoring"?
Pollen, a danger near you ...
For people with allergies, pollen is a harmful allergen that causes an allergic reaction. The human immune system treats pollen as an attacker and responds by producing a large amount of antibody. This allergic reaction can cause the following symptoms: itchy watery eyes, runny nose, itchy throat, hives, fatigue, and irritability.


Stay out without worries
The SMART POLLEN MONITORING application is a simple yet powerful 3D-web-based application project that facilitates the simulation of tree-pollen dispersal patterns of the selected tree types integrating with a smart routing functionality. An application illustrates the current and historic behavior of pollen dispersion at a specific location from each tree directly. It analyzes the area of high pollen dispersion dynamically according to the tree location, tree type and wind information by the period of time. Also, it provides a smart routing functionality suggesting the most suitable route to avoid the pollen area. Additionally, it is possible for users to enter the new tree data which has not yet existed into the application's database. Overall, it aims to help the people with tree pollen allergies to make a right decision about all their outdoor activities for example to select the right place for living or to plan the route to travel which has low level of pollen dispersion.

Check out the application in advance when planning your outdoor activities to avoid these foreign substances.
Then, just get out without worries!
Project Video
**You can turn a subtitle on or off at the lower right menu of the Youtube screen.
**If you prefer to watch directly on the Youtube, please click
here
.
System Architecture
We are now also participating in the Microsoft Challenge!!
How are we using the Azure cloud services to make the Smart Pollen Monitoring Smarter?
Using Azure Database for PostgreSQL to stream and store tree and wind data.
Using Azure Node.js Webapp as our web application server.
Using Azure Cloud Storage to host our main web page. (URL: https://smartpollenweb.z6.web.core.windows.net/)
Developing voice command to use the Smart Pollen Monitoring by utilizing Azure cognitive-services "Speech to Text". (Underdeveloping)


The overview of Smart Pollen Monitoring 2.0 system architecture
Open full image on the new tab here. ( link )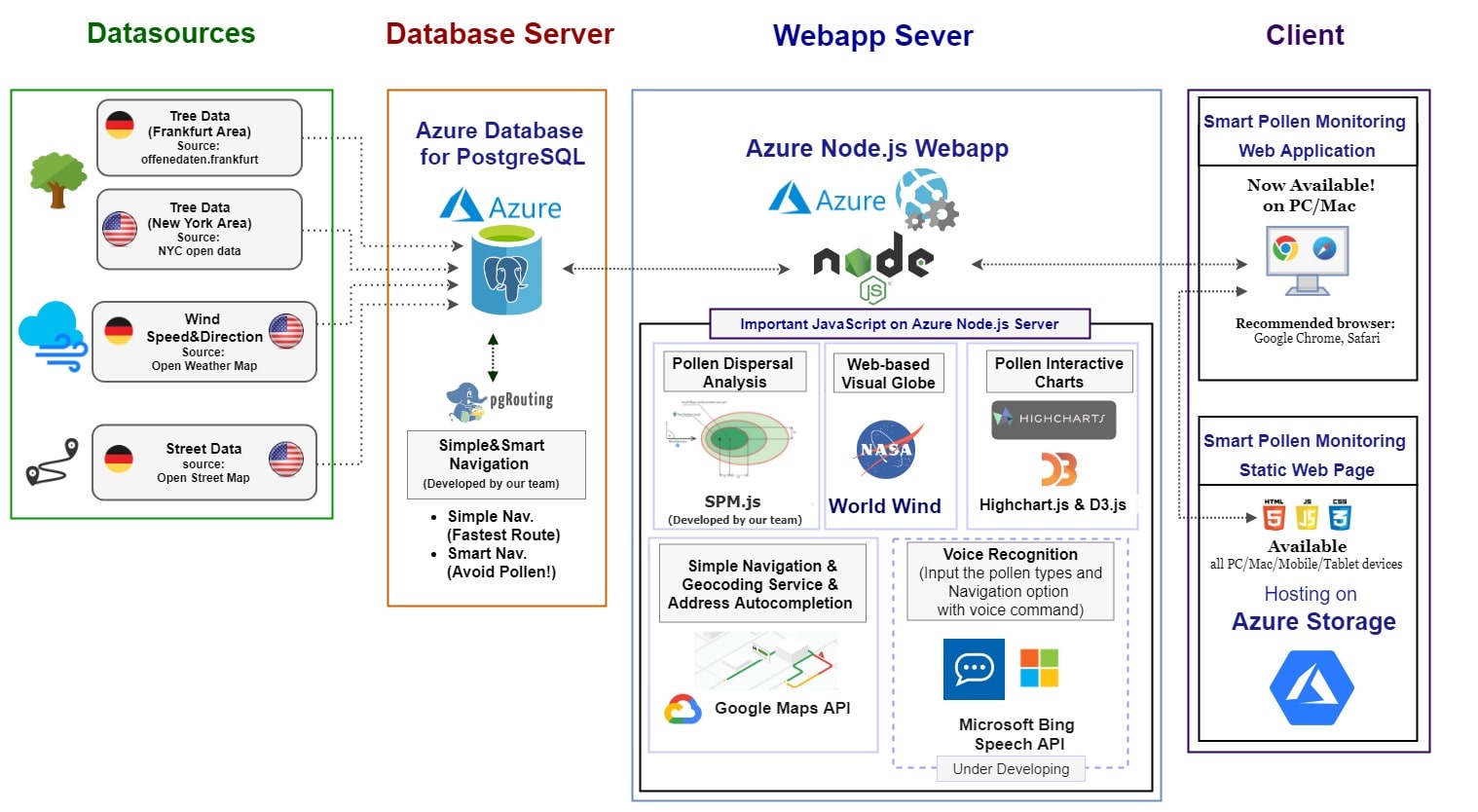 Our Team
The three musketeers from Stuttgart, Germany
Joe Thunyathep Santhanavanich

Patrick Würstle

Giuliano Baumann
Shortly about us
We are a team of students from the University of Applied Science Stuttgart (HFT Stuttgart), Germany. In 2017, we are in the same class of GIS application project. We discussed our plan in a park under a tree with pollen and started getting sick of it. Then, we came up with an idea about building something cool for monitoring this danger pollen!! We began developing our app and participated in NASA World Wind Challenge 2017 and UN World Challenge in 2018. Recently, we improved our app with Azure database and Web app.

We are going to participate in the Microsoft Imagine Cup 2019 with the smarter application:
Smart Pollen Monitoring 2.0

Contact us: smartpollenmonitoring@outlook.com